Monica Iglecia, Pacific Birds U.S. Coordinator and Helen Raine, the Hawaiʻi Wetlands Coordinator, submitted this account of their recent visit to three of the Hawaiian Islands. They met with Pacific Birds partners and visited several wetland conservation and restoration sites.
Wetlands! Wondrous wetlands! As we approached our first stop on a visit around the state to meet with the fantastic partners that are working hard to conserve, restore, and manage the islands' wetlands, we were excited at the prospect of seeing the myriad of life that benefits from this work–from damselflies to the native Kaluha plant to the migratory Kioea.
Wetlands and other flooded spaces, such as lo'i kalo (taro pondfields), provide a variety of ecosystem services including sustainable food production, bird habitat, and flood attenuation. We are here to visit the precious wetlands, large and small, that adorn the island chain and to meet the individuals and partner organizations involved with these places. And after nearly three years of pandemic-induced travel limitations, we are thrilled to have had the opportunity to get out, see the sites, and connect in person with partners.
On Molokai, through the Molokai Wetland Partnership (MWP) and with funding through a Pacific Islands Climate Adaption Science Center grant to the USGS California Water Science Center, partners conducted a rapid assessment of the islands' wetlands to determine areas with potential for wetland restoration and enhancement that are also expected to be resilient to a changing climate. Community input is an essential part of this work and will guide the final restoration prioritization plan.
It was here on the coast of Molokai–thanks to the trove of knowledge of local expert Arleone Dibben-Young–that Monica experienced the thrill of seeing a Kioea or Bristle-thighed Curlew (Numenius tahitiensis) for the first time. This species, named for the small exposed feather shafts visible on their upper thighs, was much of a mystery species until the 1980s. Now known to nest in remote areas of the Alaskan tundra, Kioea fly non-stop at least 4,000 km to wintering grounds in the Hawaiian Islands (in addition to other Pacific wintering areas). 
On Oʻahu's south shore, we visited Kawanui Marsh, a Ramsar site managed by the Hawaiʻi Division of Land and Natural Resources, Department of Forestry and Wildlife (DOFAW). We met with Jason Misaki, Lindsay Nietmann, and Aaron Werks to learn about the management of the state's largest wetland, which provides essential flood control services to the town of Kailua and is a stronghold for threatened and endangered waterbirds. DOFAW recently partnered with a local non profit, Kauluakalana to introduce lo'i kalo (traditional taro growing practices) to a section of the marsh. 
On the north shore of O'ahu, we visited the James Campbell National Wildlife Refuge where our group got a tour from Kelly Goodale, Biologist with the U.S. Fish and Wildlife Service (USFWS). Among the foraging Alae ke'oke'o or Hawaiian Coot (Fulica alai), 'Alae 'Ula or Hawaiian Gallinule (Gallinula galeata sandvicensis) and Aeʻo or Hawaiian Stilt (Himantopus mexicanus knudseni), a trifecta of endemic and endangered waterbirds, was a flock of fourteen foraging Bristle-thighed Curlew that took our breath away. 
Two of the observed Bristle-thighed Curlew were color banded in a USGS and USFWS study examining the demographic composition and movements of the curlew population on the refuge. Lee Tibbitts, a USGS research scientist who has been following curlews for a number of years, helped illuminate their stories. One bird was banded in the winter of 2012 and the other in the winter of 2014. Both birds were classified as adults when banded based on their molt patterns, and since curlews take three years to become adults, these birds were at least 13 and 10 years old, respectively.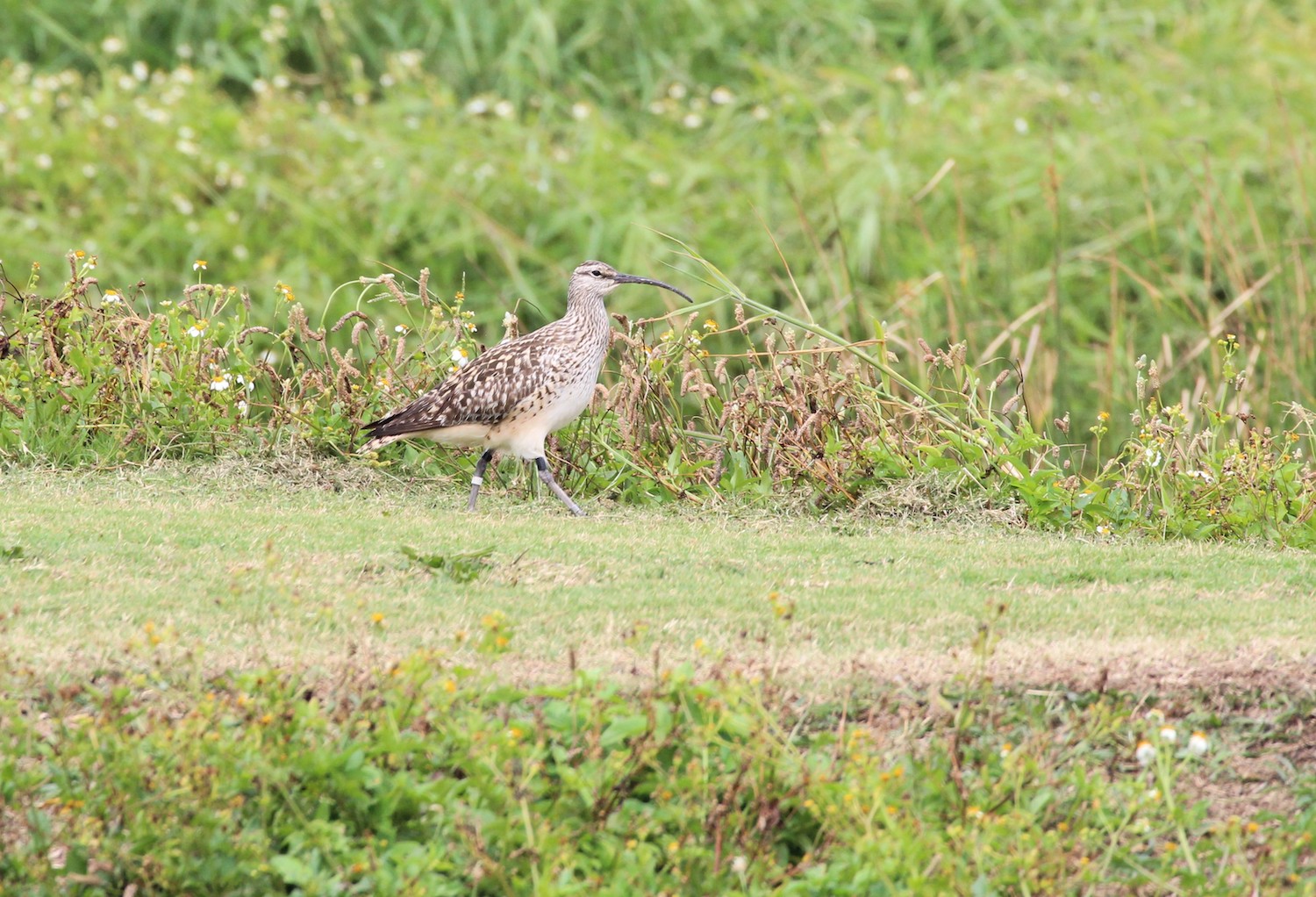 On Kauaʻi, we visited a series of wetland sites, from Kawaiʻele State Waterbird Sanctuary in the west, all the way to Hanalei National Wildlife Refuge on the North Shore, where Tristan Luxner of the USFWS talked about the benefits and challenges of managing lo'i kalo for waterbirds.  
At the Makauwahi Cave Reserve we met with site manager Laura Manser. Makauwahi is home to Hawaiʻi`s largest limestone cave, the richest fossil site in the islands, and a uniquely preserved archaeological site that houses the bones of now extinct flightless ducks. It's a living museum dedicated not just to the past, but also to experiments in native species conservation. On abandoned quarry lands surrounding the cave, managers have used innovative techniques such as using historic pollen samples to guide which species to plant, and they have created a series of wetlands which are now hosting native endemic birds.  
Our last stop on Kauaʻi was the Alakoko Fish Pond, recently purchased and managed by Mālama Hulē'ia. The fishpond was once part of a network of hundreds across the islands that provided a sustainable food source for Hawaiians. A deep respect for land and water is infused in the care and restoration of this fishpond. The removal of 26 acres (10.5 hectares) of invasive mangrove at Alakoko, and 4 acres (1.6 hectares) at the test site of Niumalu, has opened up a world of potential to feed and provide for both human communities and native birds. 
At the end of the trip, Monica reflected that after working in expansive continental wetlands across the Americas–from the San Francisco Bay to the Mississippi River Delta to Lagoa do Peixe in Brazil– the wetlands of Hawai'i may appear small, situated on remote archipelago in the Pacific Ocean. Yet, the value of these places cannot be overstated. They are home to some of the rarest birds in the world and to human communities with deep and long-standing relationships with these wetland ecosystems. When allowed to thrive, they support a diverse and abundant assemblage of life. If Bristle-thighed Curlews fly thousands of kilometers nonstop to spend their winters here, perhaps we can work together to ensure they, and all other migratory and endemic species, have a safe place to land.