Baskett Slough National Wildlife Refuge Projects Benefit Landbirds and other Wildlife
Thank you to Graham Evans-Peters, Refuge Manager for Ankeny and Baskett Slough National Wildlife Refuges, for submitting this story.
The Refuge and Migratory Birds
Baskett Slough National Wildlife Refuge (NWR) consists of nearly 2500 acres within the mid-Willamette Valley in Oregon. It is part of the larger Willamette Valley National Wildlife Refuge Complex, which encompasses three refuges that protect historically significant oak savanna, prairie, riparian and wetlands habitats. Baskett Slough was originally created in the 1960s to preserve habitat for wintering Dusky Canada Geese, but today it is also recognized for its habitat values that are critical to a suite of avian species.
Baskett Slough NWR is designated as an Oregon Department of Fish and Wildlife Conservation Opportunity Area. These are landscapes where broad fish and wildlife conservation goals can best be met by maintaining, restoring, and improving native habitats. The refuge supports a rare community of upland prairie, oak savanna, and oak woodland habitats. Consequently it is home to many important and rare taxa including Fender's blue butterfly, Kincaid's lupine, Willamette Daisy, as well as priority landbird species such as the Western Bluebird and Slender-billed Nuthatch. The prime oak habitats on the Refuge also support avian species such as the Bewick's Wren, Black-capped Chickadee, Black-headed Grosbeak, Bushtit, House Wren, Spotted Towhee, Western Bluebird, Western Tanager, Western Wood-Pewee, and many more. The Streaked Horned Lark, which breeds on the Refuge, is listed as critical on the Oregon sensitive species list and is a federally listed threatened species. Baskett Slough NWR and surrounding private conservation lands are an Audubon Important Bird Area, due to the presence of priority landbird species as well as resident and migrating waterfowl, waterbirds and shorebirds.
Changing Landscapes and Active Management to Benefit Birds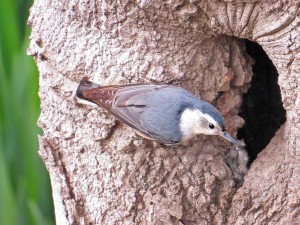 Oregon white oak (Quercus garryana) woodland habitats once covered approximately 400,000 acres in Oregon's Willamette Valley, supporting myriad avian species. Today, less than 7% of those oak woodlands remain. Therefore, they are a priority native habitat for many conservation entities in the region including the Willamette Valley National Wildlife Refuge Complex. Oak woodlands have been impacted by habitat loss due to conversion to agriculture and development, invasive species, and vegetation changes due to fire suppression. Low intensity fire was once a common occurrence in oak habitat and actually helped maintain it. In the long-term absence of fire, oak woodlands typically succeed to conifer forest. Douglas-fir invades openings in these woodlands and exceeds oaks in both annual height growth and maximum height, eventually overtopping oaks. Oregon white oak is shade intolerant and this overtopping by an evergreen species causes crown die-back and mortality.
In addition to the oak forests, the prairies, oak savanna, wetlands and other early successional habitats are also critical to many avian species. Due to some of the same processes at play in the oak forests, some natural processes and functions of these habitats have been lost or altered to the point that active habitat restoration or intervention is needed. The wet and upland prairies, and oak savanna are on a rotational prescribed fire program to remove litter, maintain plant diversity and curb woody invasion. Many wetlands in the Refuge are under active management in order to mimic seasonal flooding and allow for periodic disturbance such as discing.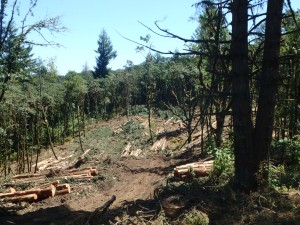 More challenging, oak woodlands that have been invaded by Douglas-fir, in some cases for over a hundred years, simply cannot be maintained. Nearly a hundred acres of oak woodland habitat on the North Butte of Baskett Slough NWR has been invaded by fir and was in various states of overtopping. Refuge staff recognized that if the fir was not removed in the near future all of the oak would be lost. In 2014, a 38-acre project was initiated to harvest Douglas-fir, saving the oaks from imminent mortality and thereby benefiting the numerous oak dependent landbirds that thrive in these declining habitats. In 2015, a 20-acre phase II project was completed. Many of the harvested fir logs are or will be used for in-stream fish restoration projects throughout the Willamette Basin.
Both of these projects complement significant oak woodland, oak savanna, and upland prairie work being done in the Baskett Butte neighborhood by private landowners, the Nature Conservancy, the Natural Resource Conservation Service, Polk County Soil and Water Conservation District, the U.S. Fish and Wildlife Service Partners for Fish and Wildlife Program, Oregon Watershed Enhancement Board, and many others. Once an additional 20 acres is completed in an upcoming phase III project, the Refuge expects to have restored nearly 100 acres of oak habitat. The Refuge will then be able to more passively manage this Oregon white oak woodland with a native dominated understory.
Reintroducing prescribed fire may not be possible in dense woodland with nearby private lands; however keeping seedling fir invaders at bay is now a manageable task. Additionally, the oak is saved so thinning to a more savanna like stand is a preserved option that would eventually allow burning. It may take a few years for the native shrubs to heal back in to desired levels, but the avian response is nearly immediate.
Restoring Oak Forests is a Partnership Effort
The Willamette Valley Refuge Complex thanks our gracious partners, supporters, and funders including but not limited to the Bonneville Power Association, Calapooia Watershed Council, Long Tom Watershed Council, Luckiamute Watershed Council, Mary's River Watershed Council, Oregon Department of Fish and Wildlife, Oregon Watershed Enhancement Board, South Santiam Watershed Council, Trout Mountain Forestry, and the U.S. Fish and Wildlife Service.
The Refuge recognizes that their conservation objectives, and those identified by conservation partners and the public, could simply not be accomplished solely within the 10,000 acres of the Refuge Complex. Nor can all of the desired conservation actions be implemented exclusively by Refuge staff. The immense work required to restore and manage native habitats necessitates strategic and cooperative efforts, both in and outside of the Refuge. We are thus extremely grateful to the robust conservation community of the Willamette Valley and all of the supporters of the Refuges.
For more information:
Baskett Slough National Wildlife Refuge
Baskett Slough (and Livermore Road) Important Bird Area