The Pacific Americas Flyway spans the eastern Pacific from Alaska to the southern tip of South America. All along the way, coastal wetland habitats including tidal wetlands and mudflats, eelgrass, and freshwater wetlands are used by millions of migrating birds to breed, rest, refuel and overwinter. These areas provide essential habitats for a diversity of wildlife species and are highly valued by human communities for hunting, fishing, birding, and other recreational or cultural activities.
Coastal wetlands along the northern Pacific Flyway create an ecological network critical to migratory birds–the Yukon-Kuskokwin Delta, the Copper River Delta, Puget Sound, the Columbia River Estuary and Humboldt Bay among the largest. When these biologically rich habitats are lost or degraded, bird populations lose a piece of this network. Estuaries and coastal freshwater wetlands have been significantly altered by urbanization, industrialization and other human-driven changes, putting species at risk and decreasing the resilience of human communities.
The long-term goal for this conservation priority is ambitious—to conserve and sustain the northern Pacific Flyway's coastal wetlands. We will also work to generate public support for conservation flyway-wide and advocate for policies that will benefit all fish and wildlife species.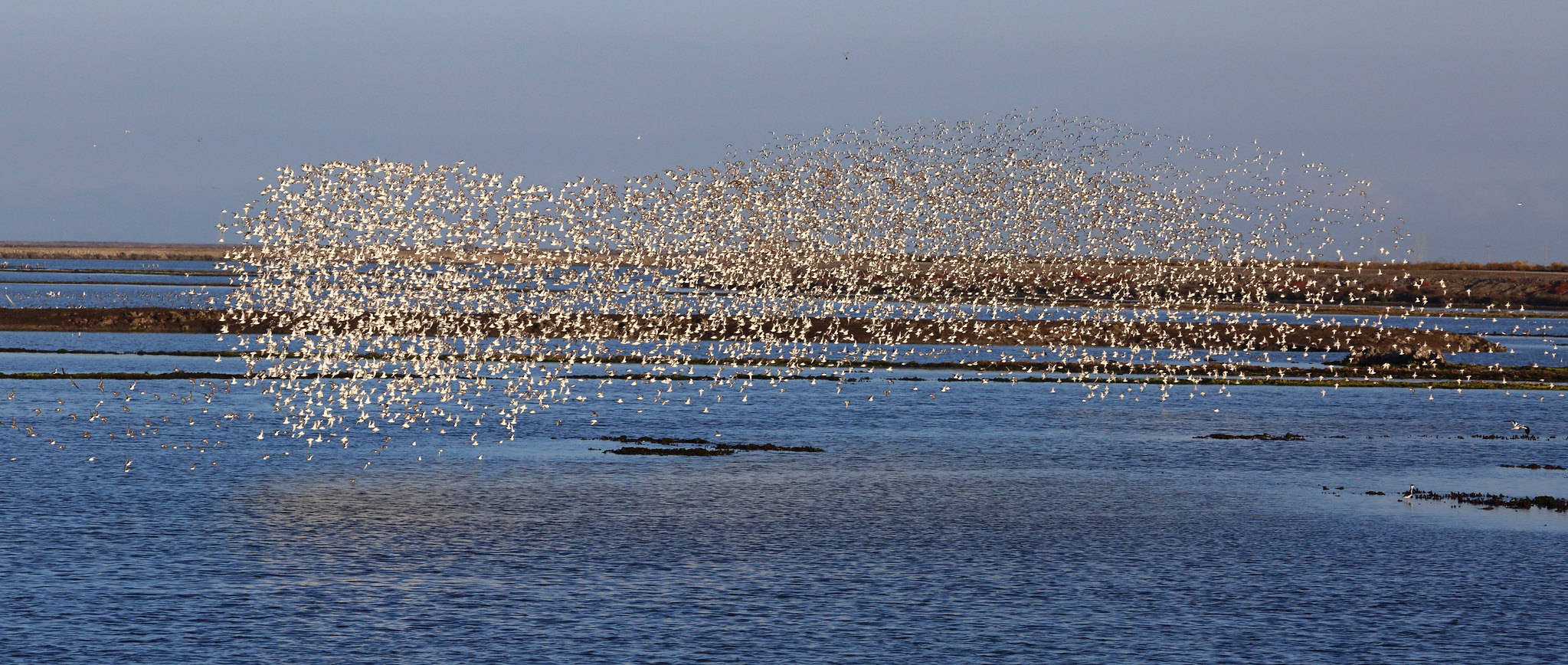 The Goal
Conserve coastal wetlands by meeting the habitat needs of migratory birds and other native fish and wildlife as human communities adapt to rising sea levels, a changing economy and other social and ecological changes.
The Partners
Conserving coastal wetlands has been core to Pacific Birds work since our inception as a Joint Venture in 1991. Conservation projects, led by dozens of partners and friends, have conserved estuaries and freshwater wetlands from Alaska to California. We have helped them network, strategize, and find the expertise and funding they needed to meet both their conservation goals and those of the JV. We look forward to working with our long-standing partners and engaging with new ones.
The Planning
In 2021, Pacific Birds initiated a planning process, led by a Coastal Wetlands Committee for coastal wetlands conservation within the U.S. North American boundaries of Pacific Birds. The committee is developing a 10-year Coastal Wetlands plan that builds on existing knowledge while also seeking out new data and analyses, additional partners, and new perspectives. The plan will complement the recently released 10-year Implementation Plan for the British Columbia arm of Pacific Birds.
The Habitats
Coastal wetland habitats–including tidal wetlands and intertidal mudflats, eelgrass, and freshwater wetlands and lakes–support huge numbers of migratory and resident birds, and other fish and wildlife species. Healthy habitats are also key to resilient coastal communities.
Pacific Birds is working with partners to:
key habitats that support high abundance or diversity of birds, and species of concern.
partners around common conservation goals and strategies.
the most effective strategies for conservation for the next decade. A 10-year plan for Coastal Wetlands is in progress.
BY THE NUMBERS:
The Fraser River Delta
The Fraser River Delta, a crossroads for birds from three continents, is a major link in the Pacific Flyway network. It is a priority conservation area for Pacific Birds, due its importance to birds and the threats to the estuary's habitats.
To learn more about Pacific Birds Coastal Wetlands priority, contact Monica Iglecia, Pacific Birds U.S. Coordinator.
Recent News about Coastal Wetlands and Estuaries
We are thrilled to announce that Dr. Laura Farwell is joining the Pacific Birds team! Laura starts May 31st as the Conservation Coordinator for Coastal Habitats.