Helen Raine is our Conservation Specialist in Hawai'i. Originally from the United Kingdom, she worked in several countries before landing on Kaua'i where she now lives with her family.
Below, Helen talks about her early interests and career, and how her present job working with waterbirds and wetlands in Hawai'i is reminiscent of her work in the U.K. It turns out there are similarities in these otherwise disparate islands–not in the species you might see, but in the conversations about wetlands and sea level rise.
I started my conservation career working in Zambia and Peru carrying out baseline biodiversity studies, quite a change from the ecosystems I was familiar with. That's where I first got into birds and it was a steep learning curve! I went from recognizing only the most common U.K. species to learning 300 rainforest birdcalls for point counts. When I returned to the U.K., I worked in the County of Suffolk with Natural England, the U.K. equivalent of U.S. Fish and Wildlife Service. Instead of the relatively intact landscapes I had seen in Africa and South America, I was now working on small sites with a single protected species like the like the Great Crested Newt, or entire swathes of the Suffolk coast that had been heavily manipulated by humans but were still home to significant numbers of internationally important waterfowl and waders.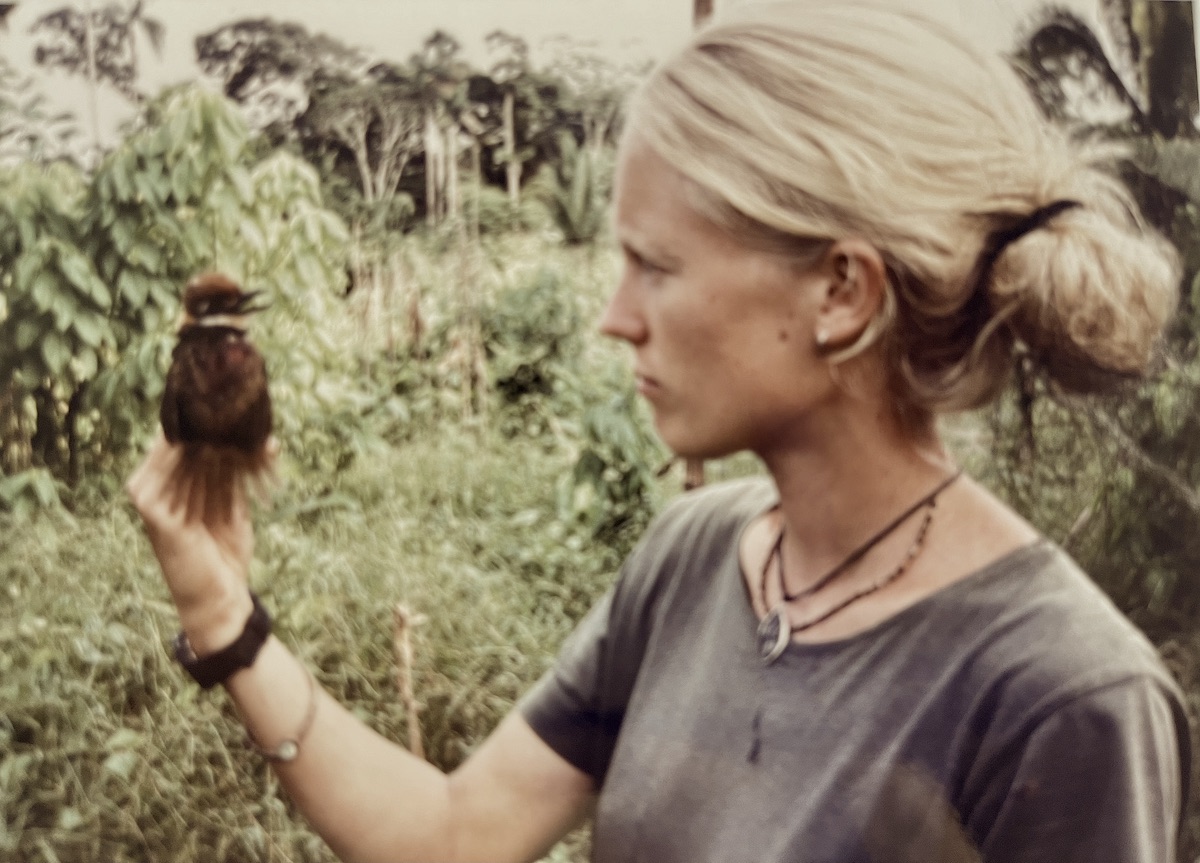 After a subsequent three year stint with BirdLife Malta working on seabirds, I made the move to Hawai'i. I was seven months pregnant, with a toddler in tow, and will be forever grateful for how kind and welcoming people were. I had no idea what to expect–the islands aren't particularly well known in Europe and people tend to think of Hawai'i as a resort rather than an evolutionary hotspot! Oddly, Hawai'i actually has more in common with the U.K. than you would think, at least when it comes to wetland habitat and climate change, and of course both are islands!
In the early 2000s, sea level rise was already a hot topic in Suffolk. Freshwater wetlands are close to the ocean there, separated by dunes or man-made dikes. A rising seawater level was changing the freshwater environments important to many waterbirds and there was heated debate about whether to hold the line with seawalls, or let seawater flood the wetlands in a controlled way. Compounding the issue, people's homes were falling into the sea, making for some emotional meetings. To keep the seawater out, one man had built his own cliff structure out of earth, but it was adversely affecting a Site of Special Scientific Interest–just one example of the conflicting interests revolving around sea level rise.  
People in Hawai'i are having very similar conversations in 2021. Sea level rise is poised to inundate homes and wetlands here too, but there is greater recognition now that we can't necessarily build our way out of the climate crisis. We realize that working with nature might work better; in many ways, that's a return to traditional Hawaiian practices. We might lose some wetlands to saltwater inundation, just as we did in the U.K., but restoring others further away from the ocean can be part of the solution. Those wetlands will help to slow flood waters, trap sediment, reduce pollutants, and support waterbird populations as well as protecting reefs, homes and property. It's a wetland win-win.
While the conversations I had in the U.K. and am having in Hawaiʻi have similarities, the specific solutions need to be place-based which keeps me learning. In Hawaiʻi, our challenges are also different and the stakes are incredibly high. The 'alae'ula or Hawaiian Common Gallinule (Gallinula chloropus sandvicensis) and koloa maoli or Hawaiian Duck (Anas wyvilliana) are each down to only about 1,000 birds. That would blow your average conservationist's mind in England and it helps to keep me motivated!