Pacific Birds U.S. Coordinator Monica Iglecia shares how Pacific Birds plans to move conservation forward within our Coastal Wetlands conservation priority. A Coastal Wetlands Committee has started to strategically plan for birds and habitats from Alaska to California.
---
Conserving coastal wetlands has been core to Pacific Birds work since our inception as a Joint Venture in 1991. Conservation projects, led by dozens of partners and friends, have conserved estuaries and freshwater wetlands from Alaska to California. We have helped them network, strategize, and find the expertise and funding they needed to meet both their conservation goals and those of the JV. North American Wetlands Conservation Act (NAWCA) grants alone have conserved approximately 345,000 acres of vital habitat for birds in the past 30 years within the Pacific Birds region. We are proud of the conservation gains accomplished, but there is still work to be done.
In the past three years, we have taken a fresh look at the threats, needs and opportunities related to coastal conservation. In 2019 and 2020, Pew Charitable Trust and Pacific Birds held listening sessions in Washington and Oregon. After summarizing input from more than 100 participants, three major themes emerged: 1. Climate adaptation planning is needed at a scale that can mitigate the effects of a changing landscape and economy, 2. There is a need to strengthen the resilience of coastal habitats and communities to sea level rise, increased flooding, and storm surges, and 3. The network of aging infrastructure impacting coastal habitats that birds, other fish and wildlife, and people need must be addressed.
Coastal Wetlands of the Pacific Flyway are the essential backbone for migratory birds connecting the network of awe-inspiring migration sites to irreplaceable breeding grounds in Alaska.
–Kyle Spragens, Pacific Birds Coastal Wetlands Committee Chair
In 2021, Pacific Birds initiated a planning process, led by a Coastal Wetlands Committee for coastal wetlands conservation within the U.S. North American boundaries of Pacific Birds. The committee is developing a 10-year Coastal Wetlands plan that incorporates what we heard in the listening sessions, solicits new input and additional expertise, and identifies and prioritizes actions we can take as a partnership to help birds. This plan builds on existing knowledge while also seeking out new data and analyses, additional partners, and new perspectives. The plan will complement the recently released 10-year Implementation Plan for the British Columbia arm of Pacific Birds.
Conserving Coasts for Today and Tomorrow
Coastal wetland habitats–including tidal wetlands and intertidal mudflats, eelgrass, and freshwater wetlands and lakes–support huge numbers of migratory birds. The full life-cycle of some American Wigeon populations occur completely within the Pacific Birds geography and millions of waterfowl use this northern part of the Pacific Americas Flyway at some point in their annual cycle. The coastal regions of Alaska  intersect with multiple bird migration flyways, connecting habitats and people as far as New Zealand (Bar-Tailed Godwit), Hawaiʻi (Pacific Golden-Plover), Mexico (Pacific Brant), and Panama (Western Sandpiper).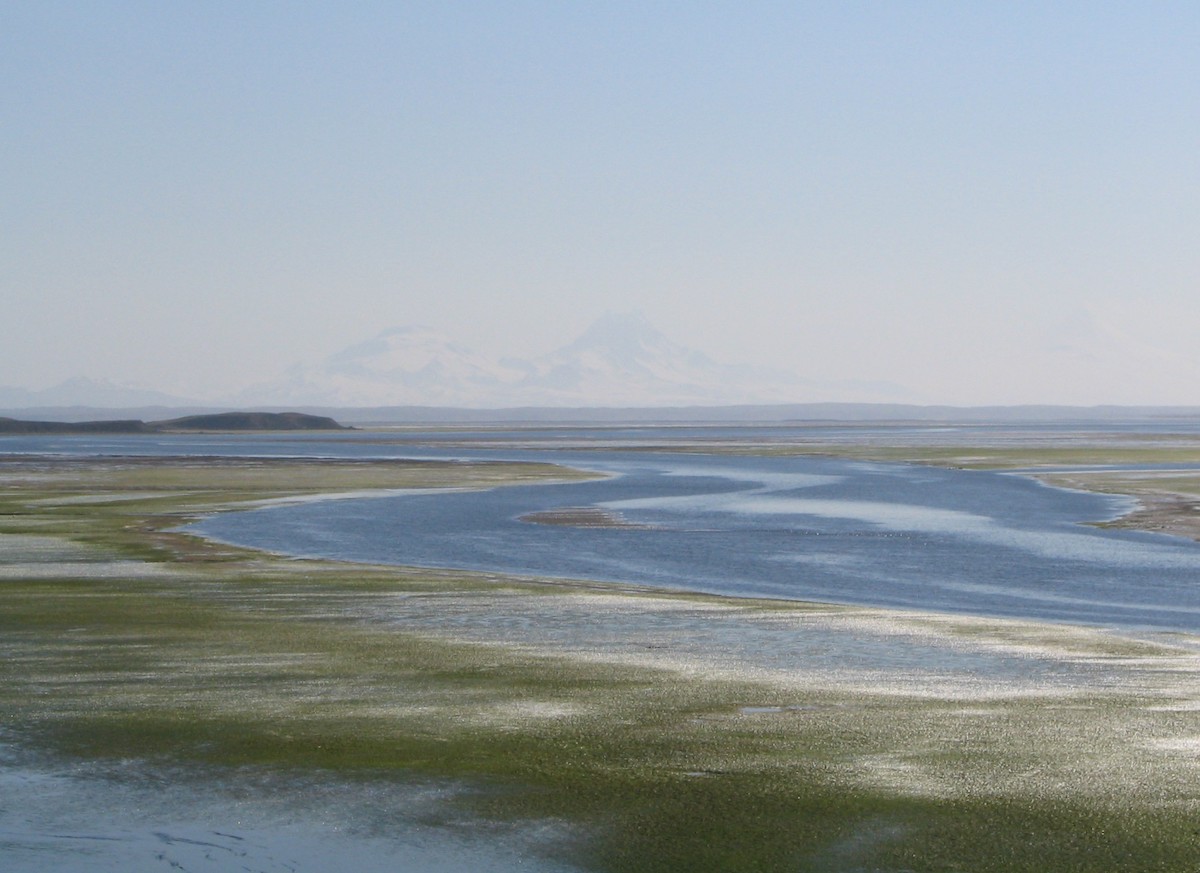 This renewed commitment to coastal conservation planning is timely. The 2019 paper, Decline of the North American avifauna, articulated the dramatic decline in birds over the past 50 years across numerous taxa. Shorebirds have been especially impacted, with 68.2% of species in decline. Twelve sites in the Pacific Birds geography–from the Yukon Delta in Alaska to Humboldt Bay in Northwest California–are designated as Western Hemisphere Shorebird Reserve Network sites due to their importance to shorebird populations.
In another paper, Brophy et al (2019) estimate that 85% of vegetated tidal wetlands in California, Oregon, and Washington have been lost since the 1800s. The study mapped current and historical tidal wetland extent, lending new information about the past and helping predict future changes to coastal wetland habitats. This kind of research provides baseline information for strategic direction setting and helps inform how we can move forward together.
In 2022, the Coastal Wetlands Committee will continue the planning process and, with the contributions of many, develop the goals, objectives and strategies to chart a way forward for the coming decade. Coupled with our ongoing efforts to help partners with funding, grants, and resources, we will continue to directly support coastal wetlands partner work within our Partnership Grants Program.
If you want to learn more, or would like to share resources related to any of the above habitat types, please reach out to us.
The goal of the Coastal Wetlands conservation priority is to:
Conserve coastal wetlands by meeting the habitat needs of migratory birds and other native fish and wildlife as human communities adapt to rising sea levels, a changing economy and other social and ecological changes.