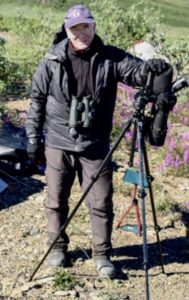 Editor's note: Thanks to Mike Mahaffa for contacting us to share this conservation story.
About 60% of the land in the United States is privately owned. The collective conservation efforts of private landowners can make a huge difference for the well-being of birds.
These Landowners are Conservation Stewards
In the hills outside of Lyle, Washington, Mike and Rita Mahaffa are working hard for birds, especially Western Bluebirds and Tree Swallows. They started with a few nest boxes on the property they bought 25 years ago, but they couldn't stop there. They are now up to 15 boxes, both on their property the shared road that leads to it. The success of those boxes depends on many things, one of them being suitable habitat.
Lyle is about 75 miles east of Portland, Oregon, along the Columbia River Gorge. The Gorge and surrounding lands are full of transitions – the country looks different as you travel west to east and cross the Cascades, and there are numerous different microclimates. The habitats also change with elevation and aspect, and they are changing with time. The Mahaffas have a mix of habitats on their land, including high prairie with scattered conifers and oak woodlands.
As long time landowners, Mike and Rita are interested in all aspects of conserving biodiversity, but they have a special interest in birds. They were inspired to establish bluebird nest boxes after a visit to Bickleton, Washington, self-described as the "Bluebird Capital of the World" (although there it is mostly Mountain Bluebirds). The prairie with scattered pines en route to and on their property provides the habitat the birds prefer – semi-open country where trees, or fences, provide perches for their insectivorous habits.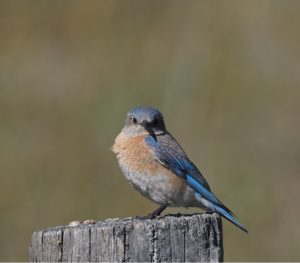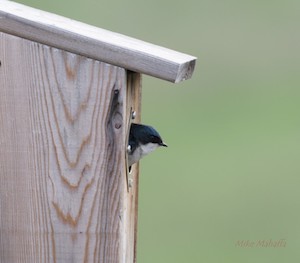 Two years ago–after experiencing success with nest boxes on their property–the Mahaffas looked at the road that they share with neighbors as providing even more suitable habitat. They built an additional 12 nest boxes along several miles of the road, at a minimum of 200 yards apart. The road has become known as Bluebird Lane.
In the summer of 2019, they had 4-6 successful Western Bluebird nests and about the same number of Tree Swallow nests. The bluebirds and swallows can use the same nest box openings and while Mike has observed the swallows harassing the bluebirds a bit, they have so far coexisted. Mike and Rita are enjoying watching the birds on what they now call Bluebird Lane, as are their neighbors, but they are also concerned for the future of the bluebirds and other species.
I greatly enjoy seeing the birds on our property and in the habitats nearby. But what I really want is for my grandchildren to have the same opportunity to see the birds as I have had. We want to help make that happen.
- Mike Mahaffa
Even though it is not a threatened or endangered species, there is concern in  about the Western Bluebird and its diminished range in parts of the Pacific Northwest. One reason may be the lack of nest cavities, due to habitat loss or alteration. Western Bluebirds are secondary cavity nesters, so they rely on other species to build their cavities, or they use natural cavities if available. Fortunately, they take well to nest boxes which can help support local populations. Tree Swallows are among the aerial insectivores (birds that only eat their insects "on the wing") that are experiencing recent, precipitous declines across their ranges so the boxes may help that species as well.
While Mike and Rita hope to enjoy bluebirds and swallows for years to come (along with their grandkids), they may not stop there. Mike also has an interest in building boxes for the American Kestrel, and after that, who knows?