Note: Short-eared Owls (Asio flammeus) are widespread and are found in most of the Pacific Birds region. The Pueo, or Hawaiian Short-eared Owl, is a non-migratory subspecies found on all the main Hawaiian Islands.  
Thanks to Dr. Melissa Price for contributing to this story.
Seeing a Pueo soaring across a grassy field is one of Hawaiʻi's great birding experiences. In Hawaiian culture, these charismatic birds are believed to sometimes be a form of ʻaumakua, or ancestral guardian, providing wisdom or guidance. And, indeed, when you get a close look, it's easy to feel a kinship with these birds! Their penetrating yellow eyes seem to look deep into your soul. Pueo are quite an enigma and more information is needed  on their population to guide conservation efforts.
The Pueo Project has been working to provide that information. It was set up in 2017 to monitor the population size and habitat use and to establish which habitats we should conserve to help stabilize the population. The project was started by Dr. Javier Cotin and Dr. Melissa Price of the University of Hawai'i at Mānoa, in conjunction with the Hawaiʻi Department of Land and Natural Resources, Division of Forestry and Wildlife.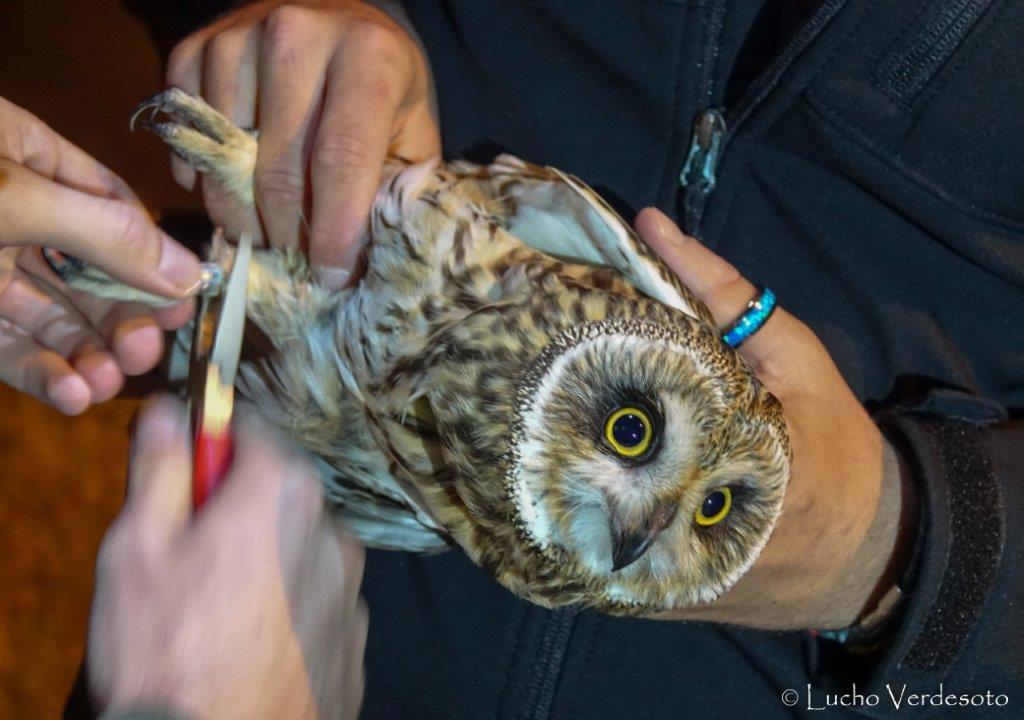 Volunteers can help fill in the gaps
Drs. Price and Cotin are keen to engage the public in some of the project's endeavors, including reporting observations, participating in surveys or phtotographing the owls' behavior. Dr. Price says "Pueo can be found in a variety of habitats, but tracking studies are suggesting that individuals do show some site fidelity, hanging out in the same areas year-round. Since Pueo can be found in almost any of our habitats, but occur in relatively low densities, a wide network of observers across the islands is important to help us learn about these birds".
If you see a Pueo anywhere in the islands, you can report the sighting via an easy form on the project website or on e-bird. If you are not sure what you are looking for (Pueo can be mistaken for Barn Owls), the project has a handy identification guide as well as instructions about what to do if you find an owlet or an injured owl. Every sighting counts, so help out the Pueo Project and report the birds you see.
Pueo are one of the few native birds that can be seen across the islands in places where people live and work. We're so thankful for the community support for Pueo conservation.
– Dr. Melissa Price, Assistant Professor, UH Mānoa
Pueo are ground nesters, leaving the eggs and young birds vulnerable to cats and mongoose. Adults are potentially impacted by a number of factors including secondary poisoning from rodenticide, car strikes, drowning in agricultural troughs or aquaponics ponds, and competition with introduced Barn Owls. Declines have resulted in the bird being listed as state endangered on Oʻahu.
Some of these conservation threats are unique to the Hawaiian Islands but scientists are also concerned about possible declines in Short-eared Owls in other areas. In Hawaiʻi and elsewhere, one of the biggest obstacles to conservation is lack of knowledge about the birds.